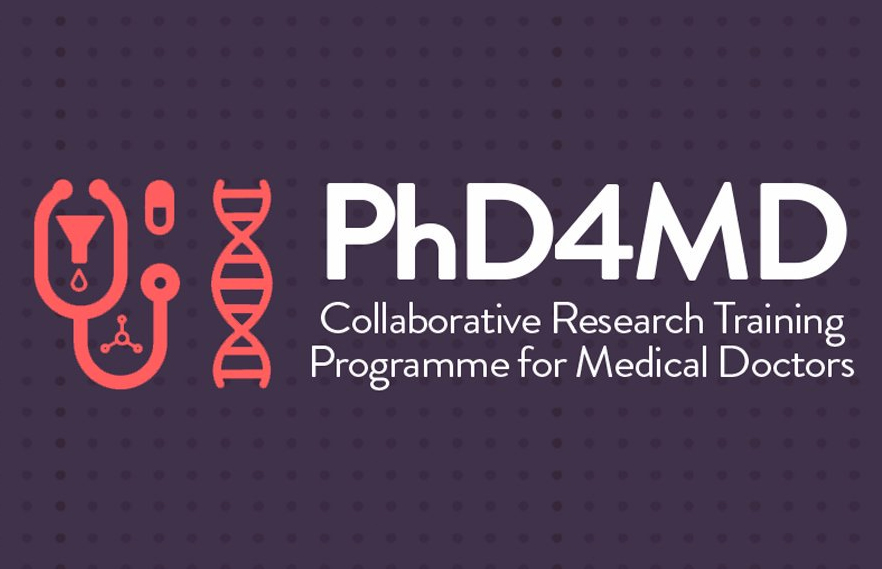 PhD4MD programme. Together with the IRB, the VHIR and the IDIBAPS, the CRG launched a new pilot training programme on research for medical doctors, called the PhD4MD programme (more details in the Advanced Training section).
Seed funding calls for emergent translational research projects of CRG group leaders in collaboration with clinical researchers and/or health-related industries continued in 2015:
Four projects were running and led to initial results as well as new funding opportunities, long-term agreements with companies, publications and dissemination actions.
Two new projects were selected in 2015, one coordinated by Eduard Sabidó in collaboration with Hospital de La Paz ("Generation of breast cancer digital proteomics biopsies for prognosis studies") and the other by Stephan Ossowski in collaboration with the University of Chile and the Calvo Mackenna Children's Hospital (CMCH) ("Unravelling the osteosarcoma genome through next-generation sequencing").
Institutional projects on biomedical research. Toni Gabaldón and the CRG core facilities on bioinformatics, genomics and protein technologies participated in a project funded by the FIS (ISCIII) on the lung microbiome in COPD patients in collaboration with the Barcelona Respiratory Network (BRN).
Courses for medical doctors. As in previous years, the programme of Courses@CRG included two successful courses aimed at medical doctors, focusing on proteomics and exome sequence application to translational and clinical studies, respectively.
EU-LIFE working group (WG) on translational research. Chaired by Michela Bertero (International and Scientific Affairs team), the EU-LIFE working group (WG) on translational research organized the second EU-LIFE scientific meeting on "Epigenetics and Disease" (BRIC, May 2015), which was attended by almost 60 basic scientists and clinicians from both the public and private sectors. The group also published the paper "Stimulating translational research: several European life science institutions put their heads together" (Trends Mol. Med. 2015, PMID: 26254816).